In Memoriam of Mr. Yoshitake Sugaya, Genius Electrician: Dedication to His Life of Music : HIROKI Koichi [Translaition : Sumi Matsuyama]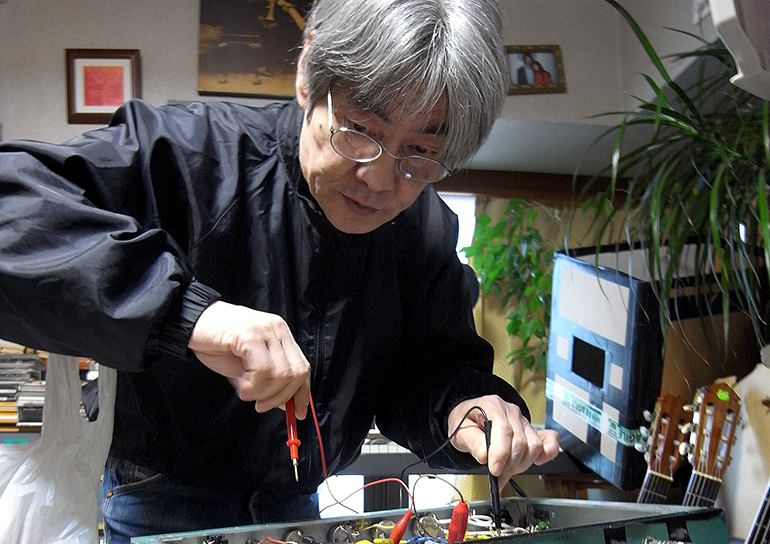 July 6, 2010

I was at Okayama Station on my return route to Tokyo following my concert tour. As I was waiting for a bullet train on the platform, I heard a roaring sound like a snare drum roll. A sudden shower came pouring down and hit the housetops with shattering force. The travelers were thrown into commotion by the noisy sound as if it was produced by tens of drummers bopping the snares. I thought it was a revelation of the end for the productive and meaningful days of my concert tour. But I was wrong. It was a presentiment that acquainted me with the demise of my mentor.

A Young Genius
Mr. Yoshitake Sugaya was an electrician and an acoustician, who loved guitars throughout his life. He majored in electric engineering at the university and continued his studies at technical school after graduation. He never lost his inquisitive spirit, and he was always around his clients. Forty years ago, a major musical instrument store branched out to the urban center of Tokyo. Mr. Sugaya was appointed to the key post of the electronic instruments section of the store. In his early twenties, he was already very savvy and knowledgeable. His orders were always placed from a musician's point of view and in consideration of his clients' needs. He handled the instruments using his skilled craftsmanship. For example, some imported amplifiers were not in perfect condition or the screws were not tight. Such defects could cause crucial troubles, because the amplifiers were always used under the vibratory condition. Mr. Sugaya gave a meticulous inspection to each amplifier before placing them on sale. His integrity and seriousness sometimes were a menace for the manufacturers, but he was always a dependable partner to the musicians and music lovers. He also worked for an audio manufacturer as a technical adviser and contributed to the development of exquisite speakers. Mr. Sugaya's father was a carpenter for temples and shrines. An anecdote that conveys the highly skilled job of his father, states that two wooden pieces shaved by him could be adhered by a drop of water. Like father, like son.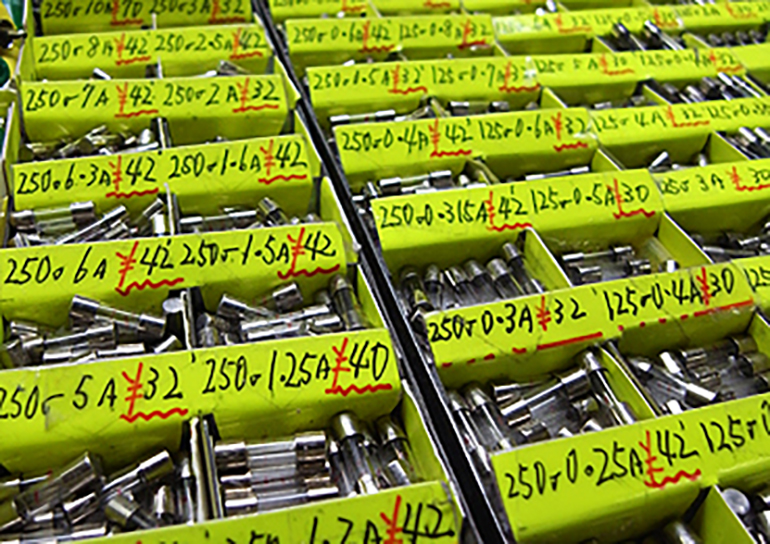 Handmade guitar amp
I have used many guitar amps from the time I started playing the guitar. Mr. Sugaya taught me the complete functions of each amplifier. He also introduced me to many new products. I purchased seven or eight amplifiers in approximately ten years, but none of them satisfied me, because my sound preferences continually alternated. I had continued to grope for a dead set amplifier, but my search was in vain. I concluded that there was no ideal amplifier among those that were commercially available. Recognizing my frustration, Mr. Sugaya suggested that he make an original handmade guitar amp for me, and that was the start of our intimate relationship. I felt that he recognized me as an accomplished musician at that time. We had many discussions on the guitars that I primarily used, as well as the strings and picks that conveyed the sounds that I wanted and needed. From that point forward, he chose the components and circuits for me. Herewith the first handmade amp was manufactured about 25 years ago. It had fat sound with high stability and reliability that was unparalleled in the history of amplifiers owing to the distinguished circuit and carefully screened parts. In the first place, the power transformer and output transformer are the most important components for guitar amplifiers; they fill the role of the engine. The power depends on the capacity of these devices. He taught me that good amplifiers were inevitably heavy. An excellent amp will respond well to both a delicate and strong performance, and the success of the performance rests with the player.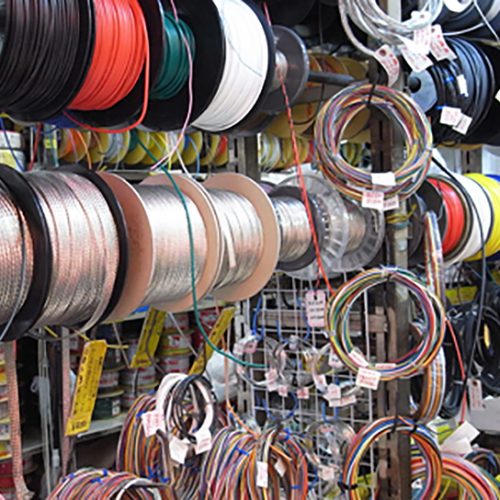 Top-notch craftsman
All guitar amplifiers crafted by Mr. Sugaya were trouble-free. Any soldered joint never disengaged. When I witnessed the careless handling of my amp by luggage handlers at a foreign airport, I was terribly disappointed, but it worked well in the concert as if nothing had happened. I observed his work operation many times, and found that all the procedures were well arranged. He always kept cool. Furthermore, he never cut corners. He was a world-class craftsman in every way. Many people in various fields look up to Mr. Sugaya as their mentor: recording engineers, sound engineers, audio manufacturers, guitar mechanics and musicians.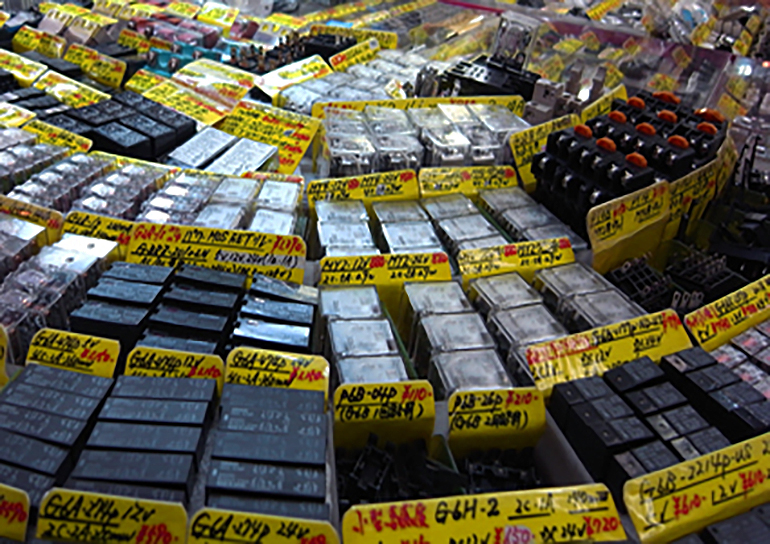 Relationship between components and sound
I had spoken to Mr. Sugaya regarding the fine tuning of my guitar amplifier in order to accommodate the slight changes of my style of renditions and musical concepts in recent years. The master was kind enough to come to my home, and we scrutinized the sound while playing the guitar. We worked very carefully listening to the tone and sound. We went so far as to concentrate on the certain frequency bands of the sound to modify the amp. We also did fine adjustments of the height of the pickup of the guitar. We even slightly changed the spacing between the speaker box and the back plate. I gained valuable experiences during these productive days that I could never have experienced through the musical performances. For example, if I requested a boost to the basso, Mr. Sugaya could select the most appropriate parts such as resistances or condensers. He was very knowledgeable about what component should be replaced so as to change the sound in a specific frequency band. He was indefectible. While most musicians try to control the tone or sound quality by the delicate alteration of touch, Mr. Sugaya achieved the control of them by the designing of circuit and optimum selection of the components. As to electric circuits, a replacement of a component can cause a negative effect. In the tenuous situation of effects and side-effects, he satisfied our requests by maintaining an appropriate balance. He had a vast amount of familiarity, ideas and experiences, beyond one's imagination. He also knew where he could buy each component in Akihabara. I used to run errands for him. It was difficult for me to find the components that he had instructed me to buy, so I had to ask where to go again and again by a pay telephone when there was no cell phone service.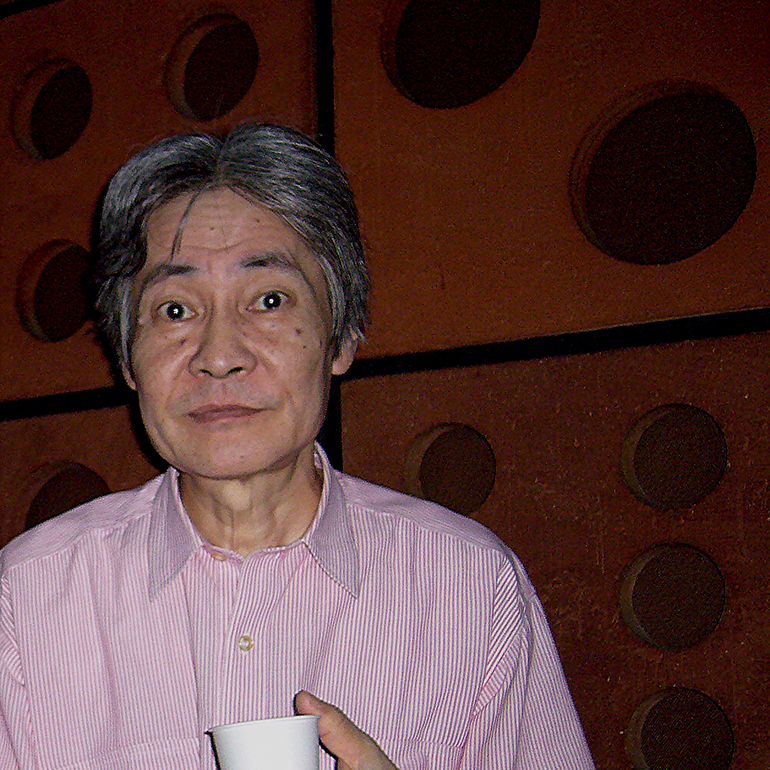 Accomplishments and Absence
Mr. Sugaya could not drink. I do not play golf, mahjong etc. So during our 36 year friendship, we had nothing in common to talk about except music and musical instruments. He moved to my neighborhood 12 years ago, so we had kept in close contact. He was always available for me, so I never had to worry about my instruments. Last May, I was going to go to Akihabara to purchase electronic parts in an effort to replace a volume of my amp. I still keep the list of the parts. But I could not complete it. It should be a final modification. I know what components should be replaced, but I cannot do it by myself. I came to be able to apply solder, learning by imitation, but I cannot retouch the circuit in case when there is unexpected trouble. I recomposed a speaker box of my amplifier after Mr. Sugaya passed away. Although I did not have any knowledge of woodworking when we started to make a handmade amp, I learned step by step how to choose appropriate wood materials, the method of shaving and coating, and so on. Now woodworking is my long suit, and I have made about 20 speaker boxes so far. Mr. Sugaya always instructed me to consider the size of the box in view of portage. Through his experiences of operating a sound engineering company, he concluded that equipment that was difficult to carry had no use in daily pursuits. However I made a considerably bigger speaker box contrary to my mentor's instructions. I believe a big speaker box is required to bring out a latent faculty of Mr. Sugaya's amp. The big speaker box has been very successful. I hear Mr. Sugaya's voice from heaven, "It is okay if you can carry it." I achieved my ideal sound at long last, but, regrettably, Mr. Sugaya will never hear the sound.
Sugaya's Sound
Mr. Sugaya was always with me. He could always answer my questions, repair my instruments, or assemble my amp. His demise reminds me of the magnitude of the maintenance of instruments that safely go on stage. His contribution to my music was too immense. I cannot receive his valid and faithful answers any more, which would be always justified in the last analysis. I plumbed the depths of despair when Mr. Takayanagi, my music mentor, passed away 19 years ago. I was completely at my wit's end confronting this huge loss. However, it was also my start as an independent-minded musician. I started to take the lead. All professional musicians experience such self-subsistence. I learned a lot of things from Mr. Sugaya, but I cannot take over his skill of electricity. He concealed his illness owing to his refined nobility. Nobody could have expected his last sleep. He was only 63 years old, and it was an untimely passing. I will always remember that half of my sound depended on Mr. Sugaya's ability. I offer my deepest condolences to his family and loved ones.
---